Wilderness First Responder, What's It All About?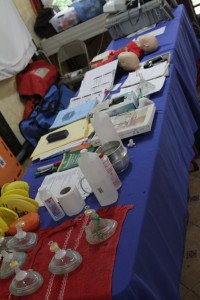 One certification that we require all of our instructors here at Outward Bound Costa Rica to have, regardless of their expertise or qualifications in other adventure activities, is the Wilderess First Responder (WFR) certification. WFR is a 72-80 hour certification course that teaches individuals how to react in emergency situations when a major medical facility is not within close proximity, especially outdoors. It is a necessary and useful credential for outdoor enthusiasts, industry professionals and those who are simply interested in knowing more about how to help others while in remote settings. The course features a written portion and also requires that students participate in scenarios that mimic real-life rescue situations. It is the hope of the course that participants will retain knowledge gained in order to lend a hand in case of an emergency.
Who takes the Wilderness First Responder course?
Outdoor enthusiasts, industry professionals and anyone interested in knowing more about how to help in emergency situations in remote settings. Young people and adults alike take this course and generally must be at least 16 years old to participate.
What topics are covered in a WFR course?
CPR, dislocations, heat illness, altitude sickness, cardiac emergencies, shock, chest injuries, burn treatment, search & rescue, anaphylaxis, head injuries, medical decision-making and First Aid kits are just some of the topics covered in a WFR course. One thing that makes the WFR certification course unique is that students are taught to use materials available to them in an expeditionary or backcountry setting.
How long does it take to become WFR certified?
The WFR course, depending on the accrediting organization, lasts 72-80 hours. Often times the course takes place in a classroom setting over the course of 8-10 days.
How long is a WFR certification valid?
The WFR certification is valid for 3 years.