Summer Alum Prepares for Her Fourth Trek into the Remote Rainforest
Our hiking expedition and homestays in the remote region of Piedras Blancas often times leave students with fond memories of the Costa Rican countryside and the welcoming families that teach them about their local traditions.
Alum that are fortunate enough to return to this community usually come back maybe one or two more times. However, our Summer alum Bailey Palmer can't get enough; this she'll be returning for her fourth visit to Piedras Blancas through our Open Enrollment Summer program! What is she most looking forward to? What keeps her returning to this memorable trek? We recently caught up with our Outward Bound Costa Rica summer superstar to find the answers to these questions… Check it out!

Bailey Palmer
Age: 17 years old
Hometown: Ventura, California
School: Ventura High School
Courses Attended with OBCR:
2010: Catching Waves; Rainforest River & Reef
2011: 14-day Surf Intensive; 24-day Multi-Element
2012: 14-day Surf Intensive; 24-day Multi-Element Expedition with Service Emphasis
2013: Rainforest Exploration Challenge; Whitewater Multi-River Expedition; Caribbean Watersport Adventure; Panama Scuba Exploration
What is your favorite part about course here with us? (What keeps you coming back?)
Well I love everything about OBCR. But I think my favorite part is all the people I meet and all the once in a lifetime opportunities I get. The ticos are all so funny and entertaining and while I'm at base and on course I feel like I'm part of a little family. The food at the homestays is soooo good and the families are so sweet. All the instructors are such cool people and they're always so entertaining and fun to be around. So yeah I guess the people, especially the ticos, is what keeps me coming back.
Your favorite phase?
I like the part of hiking when we finally get to the homestays because you've just worked so hard for a couple days and you finally get a reward. And the Zamora and Lopez families are both sooo sweet and welcoming and the food is AMAZING. And just getting to hang out in the middle of the Costa Rican rainforest for a couple of days is unreal. Playing soccer in the mud with the local kids and getting the opportunity to help the moms make dinner and talk to them; it's great.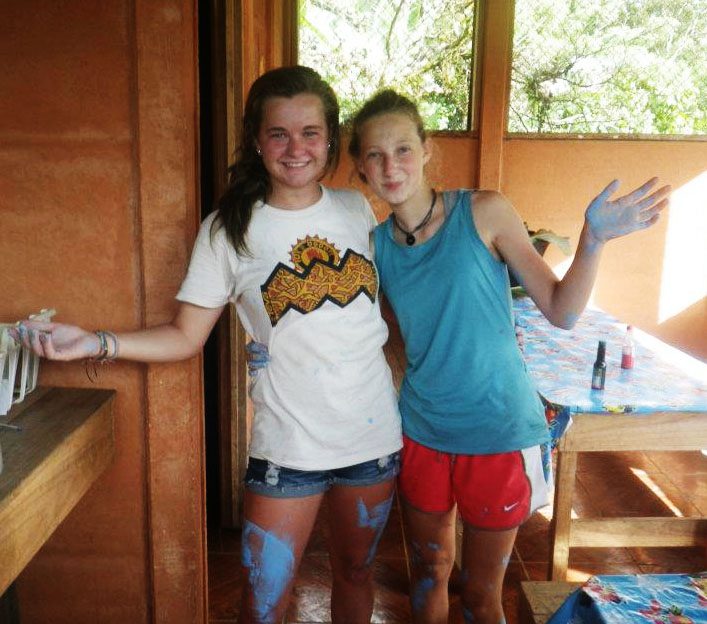 [My other favorite phase is] service because the service projects you get to do aren't boring. Like this past summer I got to touch a humongous turtle, that was apparently going extinct, one night while we were working on the turtle reserve. Like who gets to say they've done that?! And getting to spend three days at a school in an indigenous village this past summer, playing in the river with kids and having a huge soccer game with them and seeing the excitement on their faces when we gave them books and toys…I love it!
What are the best and and most challenging parts about the trek to Piedras Blancas?
The best moment for me is definitely when we come over the last little hill before Orlando's house and you see his farm and house and you get super excited because you've FINALLY made it. And the most challenging part for me is leaving the homestays. After having three or four days of living with the families, sleeping in their houses and getting to know them, it's always hard for me to leave them.
The solo [during the hiking phase] was really challenging for me… But in the end it was actually a really good experience.
Describe your experience at the homestays in Piedras Blancas.
The families are so welcoming to us even though we're covered in mud and smelling pretty horrible. They always seem so excited to see us. Even though they might not understand half the stuff we say, they have a way of making us feel so at home and comfortable in their houses. It's all just so eye-opening to how lucky I really am. And the food….don't even get me started. Those ladies definitely know how to cook.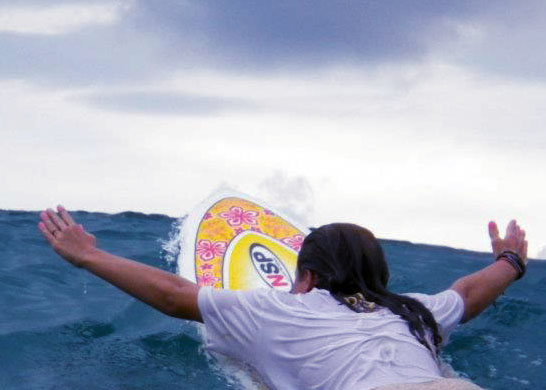 What have you learned from your experiences here at Outward Bound Costa Rica?
My courses with OBCR have taught me that I'm ten times stronger than I think I am and I'm capable of anything if I put my mind to it. I guess it's just made me realize that you never know what life's gonna throw you next but you just have to make the best of whatever it is.
How do you feel after you complete a course? What thoughts are running through your mind?
Finishing a course is definitely bittersweet. I'm happy because I made it through the course and had a bunch of once in a lifetime experiences; but I'm sad because I don't want to leave. I don't think there's been a summer where I didn't cry when my airplane took off from San Jose airport. After my courses I always appreciate what I have a lot more and I'm genuinely a happier person because I saw how happy the ticos were with what they have. They don't need flat screen TVs or the latest smart phone to be happy and they appreciate everything they have so much. So seeing that makes me a lot more grateful. And on the plane ride home I always replay everything that's happened that summer in my head and I'm super excited to tell all my friends every little detail.
What courses are you coming back for this summer?
I just sent in my enrollment form last night (SO EXCITED) and this summer I'll be going on the Rainforest Exploration Challenge then the Whitewater Multi-River Expedition then the Caribbean Watersport Adventure and last the Panama Scuba Exploration. This is my first time going to Panama so I'm pretty excited.
What are your plans after this summer? Any thoughts about joining us for a Semester course in the future?
Definitely! Next year I'll finish my senior year of high school but I plan to take a year break between high school and college. In that year I hope to complete the Leadership course with you guys and get all my certifications and hopefully get an internship for a summer and see where that takes me.
Looking for an adventure this summer? Learn more about our Open Enrollment Summer courses and discover how you can hike, raft, serve, scuba dive, surf and rappel your way through Costa Rica and Panama!